Garlic sauteed vegetables
by Chef Vembu
. 14 Mar 2020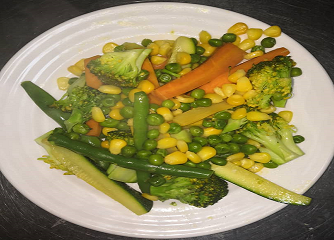 Ingredients:
1 tablespoon olive oil
1 teaspoon minced garlic
1/2 red bell pepper, chopped
1/2 yellow bell pepper, chopped
6 cremini mushrooms, chopped (cremini- a brown strain with darker flesh mushroom. Also, known as Italian or brown mushroom)
4 broccoli florets, chopped
1/2 zucchini, chopped (you cannot substitute cucumber instead of zuchhini as they have different taste although the appearance is same)
1/2 yellow summer squash, chopped
1/2 teaspoon dried oregano
2 tablespoons soy sauce
2 tablespoons chicken stock
Instructions:
Set a large pan over medium-high heat, add olive oil and heat. Add garlic and saute for 1 minute. Add all of the vegetables and cook until just starting to wilt for about 2 minutes. Add oregano, soy sauce and chicken stock and stir well and cook just until vegetables are wilted, which may take around 3 minutes. Remove from heat and serve.
Don't be in delusion, understand the reality from historical data | Copyright © 2020 theDataTalks